Buy Christmas Decorations from Happywayproms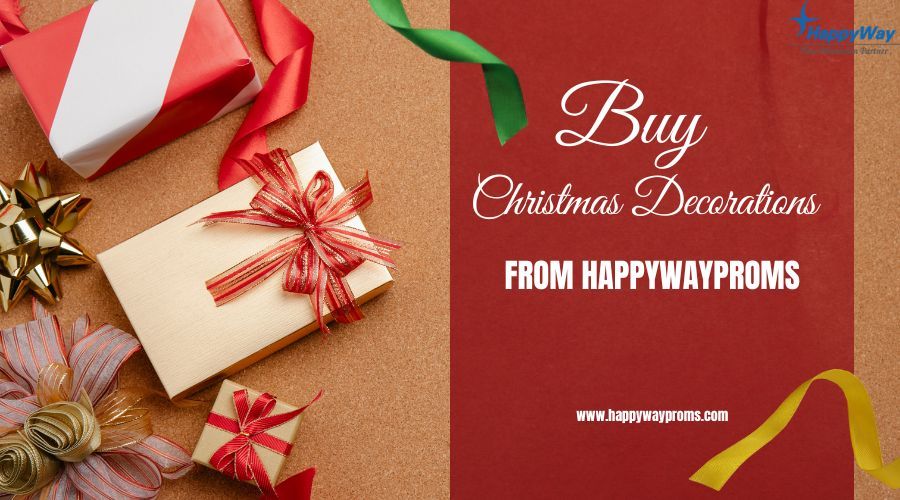 The holiday season is upon us, and as we prepare to welcome the magic of Christmas into our homes, the importance of enchanting decorations cannot be overstated. This year, embark on a journey of festive delight with Happywayproms, your go-to destination for exquisite Christmas decoration items that promise to transform your space into a winter wonderland.
Dazzling Variety:
Happywayproms takes pride in offering a stunning array of Christmas decorations, ranging from timeless classics to trendy and unique designs. Whether you prefer traditional ornaments or modern accents, there's something for everyone in our collection. From twinkling tree toppers to whimsical wreaths, we invite you to explore the diverse range that awaits you.
Quality Craftsmanship:
At Happywayproms, we understand that the joy of the holiday season is enhanced when your decorations stand the test of time. That's why each item in our collection is crafted with meticulous attention to detail, ensuring not only a touch of elegance but also durability that lasts for years. Our commitment to quality craftsmanship means that your holiday memories will be as enduring as the decorations themselves.
Affordable Luxury:
We believe that everyone deserves to experience the joy of decorating during the holidays. At Happywayproms, we offer high-quality Christmas decorations at prices that won't break the bank. Immerse yourself in the magic of the season without worrying about your budget. Our affordable luxury ensures that you can create a festive atmosphere in your home without compromise.
Featured Products:
1. Twinkling Tree Toppers:
Elevate your Christmas tree to new heights with our shimmering tree toppers. Each one is designed to add a touch of magic to your holiday centerpiece, creating a festive focal point.
2. Whimsical Wreaths:
Welcome guests with the charm of beautifully crafted wreaths that embody the spirit of Christmas. Our whimsical wreaths are not just decorations; they are invitations to experience the warmth and joy of the holidays from the moment they enter your home.
3. Glowing Garlands:
Transform your living space with our radiant garlands that bring warmth and festive cheer to every corner. Adorn mantels, staircases, or doorways with these glowing accents, and watch as your home comes alive with the spirit of the season.
Special Offers and Discounts:
To make your holiday shopping even more delightful, Happywayproms is pleased to offer exclusive discounts and special promotions on our Christmas decoration items. Visit our website today to discover the joy of saving while elevating your festive décor.
Enjoy Your Holiday Season with Happywayproms
This holiday season, let Happywayproms be your partner in spreading joy and creating cherished memories. Elevate your festive décor with our exceptional Christmas decorations, and make this season truly special. Don't miss out on the festive joy! Visit Happywayproms today and enjoy exclusive discounts on our enchanting Christmas decorations.
Happy decorating, and may your holidays be filled with warmth, laughter, and the magic of Happywayproms!